Juplaya has been a yearly tradition for me since the year I first went
(The First Time: Juplaya Journey)
. This time, though, I was working - and didn't really know of anyone else who wanted to go. I asked my friend (I'll call her Sunflower) if she wanted to go with me. She was interested, but as a fitness instructor, she was limited to a strict diet, and she didn't know if she would be able to make it work with raw foods in the desert. But we took a week to prepare things like kale crunchies, and simply didn't eat a whole lot of big "meals." We mostly just sustained on little snacks throughout the day. It worked out totally fine.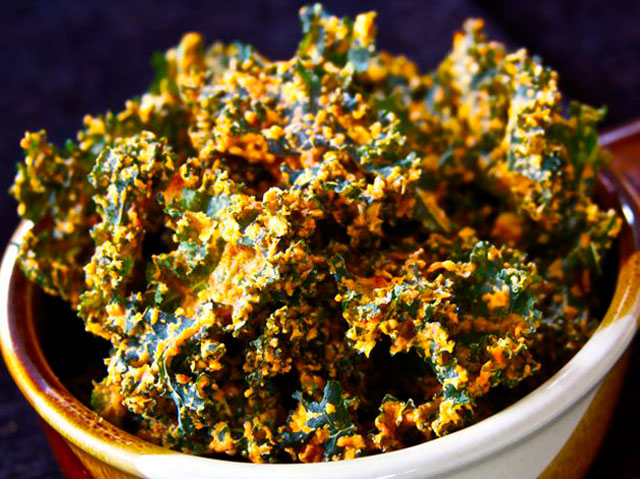 Kale Chips, Kale Crunchies - easy to make and an awesome desert snack whatever you call them, but be sure to put in a box or hard container so they don't turn to Kale Dust.
Photo Credit: The Chalkboard
Our schedules didn't allow us to get out to the playa until the 5th, so I brought 'a fifth for the fifth.' I didn't really come for 'Juplaya' this year. I just went for the Playa herself. I wanted healing. I wanted to prove to myself that the playa wasn't all that bad. That it wouldn't cause everyone misery and suffering.
Well...
At least it didn't cause ME any misery or suffering this year.
First sign something would happen - having to work on the 4th of July but deciding to go anyways
Second sign something would happen - RANDOM THUNDERSTORM ON THE PLAYA! Complete with flash flooding. That was on the 4th, the night before we had gotten there. Driving along the long desert highway, we could clearly see the signs of flooding that had already dried up, leaving the road caked and crackled.
A picture of some of the fun I missed. Double Rainbow!!
Photo Credit: flint
I was really worried about getting my car stuck in the mud, since we were only in a one-car camp. We would have to wait for help in an immense desert if we fucked up somehow. That is the kind of radical self-reliance I believe Burning Man is talking about in their 10 principles, but Burning Man does not require that kind of risk. Everything is laid out and made nice.
But the rest of the year? The roads aren't maintained. They're just curvy lines in a sea of other curvy lines. The dirt under them is packed down from years of use, but I kinda had to get the hang of the layout of the place before they became apparent to me. Now, I knew I could identify the mountains, the roads, and I was also able to identify the spot where we camped every year.
Actually, I identified the spot so well that - after some wrestling with our excuse for a shade structure - I suddenly saw a figure with outstretched arms running towards me. I hadn't even seen her car, but it wasn't very far away. I hadn't even talked to her about whether she was coming or not this year, but my dear friend - and Juplaya campmate every year since the first - was suddenly camped with us.
That night we went to frog pond, and it was fun. Sunflower got too hammered, though, and didn't have her flashlight on her. She ended up slipping on the slippery edge of the frog pond, and twisted her knee badly. She was able to walk, but it hurt. This would affect the rest of our desert vacation, but also her career as a fitness instructor.
One of the cool ponds at Frog Pond
Photo Credit: Eddie Codel
But it also helped me to have a really mellow rest of my Juplaya. Juplaya is waaaaaaay more mellow than Burning Man - mainly because there are less people. It seems to me like there is still no shortage on what to do, though, because you then have a whole desert at your disposal. Everytime I come, it's new. The whole landscape looks different except for the mountains, calmly holding space so we humans can find our way around the vast flatness, towards the waves of brush that crest the shore.
The fireworks are awesome, but I believe they are mostly illegal there and I know nothing about fireworks, so I usually just watch the fireworks brought in by the more daring. And I'll go drive, walk, or bike to their camp and offer them a drink or something. It's still fire bringing us together, just in a much more reckless way. BLM already knows this goes on. They bust some people. They kick people out of frog pond sometimes. But for the most part, they are way more chill and low-key than they are at BM. And there are way less of them. This year, though, I missed all the fireworks on the 4th. We saw a few on the night of the 5th that must have been left over.
One thing that didn't work was trying to keep soup overnight with no ice. Everything else we brought was fine, and we just brought the dry ingredients for soup. I hadn't wanted my portion that night, and so I hid it under the car, covered, in the cooler we had never put any ice in. It's not that we forgot, or that we were necessarily planning on getting ice. I guess we just decided to put stuff in there for insulation. Either way, at the point we had made the soup, the ice would probably be melted. I don't like bringing stuff like that to the playa because I don't usually bring coolers or ice. I usually just mooch off of space for a few beers in someone elses cooler - always one for me, one for them if they want it. It's not a trade, just one of the things I have to offer my beloved campmates, A symbiotic relationship. Anyways, the soup tasted gross and sour the next morning, even though I got to it before anything started warming up, as the sun was still rising. Oh well, lesson learned. Eat the soup while you can, or don't bring it.
This time, instead of beer, I just brought a fifth. No refrigeration required. But my other campmates weren't into getting drunk on the gin I brought, so I just sipped on gin and pineapple juice the whole time by myself. The juice stayed good, even if the soup didn't.
And after a day of getting there, then spending a full day there, unfortunately the next day it was time to pack it all in and head back. This was undoubtedly the shortest and most mellow Juplaya I'd ever had - which was exactly what I needed after the
fiasco of Juplaya 2012
.
And yet, as I said, the playa still took its toll on Sunflower. Her knee continued to hurt her for months afterward. She was still able to complete the function of her job, slowly incorporating more and more physical activity with the injury.
So, I guess it's as they say - the playa giveth, and the playa taketh away.